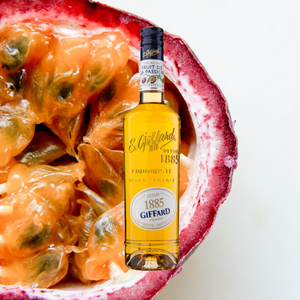 One of the newest entries to their exquisite Crèmes de Fruits collection, the Giffard Creme de Fruits de la Passion is a versatile and refreshing liqueur expression that allows drinkers to enjoy the sweet and exceptionally tart flavors of passionfruit with every sip.
Each batch begins with a neutral grain spirit which is then infused with flavor via a lengthy maceration of real passionfruit pulp. The resulting fruit-imbued spirit is then blended with pure water and syrup to tame its intense flavors before being finally packaged in clear glass bottles that display its gorgeous antique gold and orange hue.
Volume: 70cL
ABV: 16%
Origin: France
ABOUT GIFFARD
The Giffard company was created in 1885 by Emile Giffard. Our goal is to offer high quality products to customers! The best ingredients is always flavour!

More about the product : https://cutt.ly/vtKWzIH