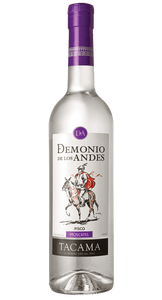 This pisco is made with the finest grape varieties grown in the Tacama vineyard. The Pisco Demonio de los Andes Acholado is a "Acholado" distilled, a term defining the mongrel, conquerors and conquered crosses, and the combination of grapes comprising this liquor: Albilla, Quebranta Torontel, muscatel and Italy.
Moscatel flavor is soft and round and has fine aromas of plums and oranges. 
Volume: 70cL
ABV: 40%
Origin: Peru
ABOUT DEMONIO DE LOS ANDES
Its label has a history of its own. TACAMA decided to use the name of one of the most picturesque and tumultuous figures of the conquest of Peru whose bravura can be compared to that of the liquor in the bottle: Don Francisco de Carvajal, notorious for his wickedness and cruelty to friend and foe alike, and for his particular brand of cynicism and sense of humour. The fear he inspired earned him the nickname of "Demonio de los Andes" (Demon of the Andes).