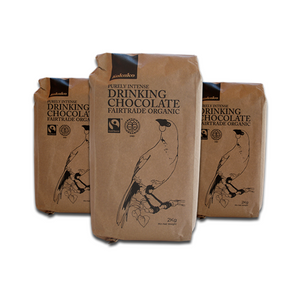 This decadent drinking chocolate is made with only two natural ingredients and is suitable for vegans (contains no dairy products) and coeliacs (contains no gluten). It is also free from fillers, emulsifiers, preservatives, pesticides and herbicides. The two ingredients in Kokako Drinking Chocolate are fairtrade organic.
Vegan, Gluten-Free, Fair-Trade
Weight: 2Kg
Origin: New Zealand
ABOUT KOKAKO
It's rare that a product ticks every eco box, so here goes: yummy Kokako hot chocolate is made locally in Auckland, certified Fair Trade and certified organic, is totally vegan and is even packaged in recyclable cardboard with compostable bio-plastic!